Listen to
Episode 57
from the Le Mans Media Centre
with Harty & Pauly
------------
FREE
only on
iTunes Music Store

AUTORLANDO SPORT HAPPY WITH FIRST DAY OF QUALIFYING
DESPITE HIGH SPEED SCARE ON MULSANNE STRAIGHT


The Porsche Factory supported team – Autorlando Sport – has got down to the business of qualifying at this years Le Mans 24 Hour, snatching 5th best time in the hotly contested GT2 class.

Autorlando Sport is enjoying their debut at the world's most famous sportscar race with their new Porsche 997 GT3 RSR. In addition to support from Porsche, the team is enjoying assistance from Pirelli – an iconic Italian brand.
Whilst the team is new to Le Mans, it is vastly experienced with 24 Hour events, having competed at the Spa 24 Hour many times.

This years driver lineup includes Danish driver Lars Erik Nielsen and German Pierre Ehret.

During the 2006 Le Mans 24 Hour, the pair were set to take out the GT2 class, until a mechanical problem delayed them in the final hour. They finished a creditable 2nd.

Fast forward to 2007 – they have enlisted the help of fellow Dane, Allan Simonsen, who like the team, is also making his Le Mans debut.

But if the recent test day, held two weeks prior, their choice is an excellent one with Simonsen bagging the second fastest GT2 time of the day to complete a 1-2-3 Porsche line up.
Not anyone can just enter Le Mans. The event is by invitation only and as winners of the 2006 Le Mans Series GT2 class, Autorlando Sport automatically gained a coveted entry.

Monday afternoon saw the team roll up in the centre of the picturesque town of Le Mans for the compulsory technical inspection. The team passed with flying colours.

It was then time for several media interviews and team photo before mingling with the crowd who religiously turnup to meet their sportscar heroes.

Tuesday – mechanics and engineers are busy checking the various systems and components that are nescessary for endurance racing whilst the drivers got together to define their race strategy.


Autorlando Sport Team photo
Wednesday dawned and with it came the first spots of rain.

With two qualifying session today and another identical session on Thursday – 7pm to 9pm and 10pm to midnight – it was vital to get it right in qualifying as soon as possible.

Lars-Erik explains, "You have four sessions but they could all be wet so you need to get a fast time in early. Perhaps it does not rain but you can't run the risk. Ideally I think we should put Allan in the car at the start of the Wednesday 10pm session. The track temp will be down and if its dry I think we'll get the best times then."

Pierre concurred, "Yes Allan was fastest at test day so that strategy works well. But you need a clear track too and obviously others will be thinking similar."
| | |
| --- | --- |
| Technical Inspection | Pushing it through the twilight |
Simonsen was first to take to the track at 7pm completing two laps for installation purposes before handing over Ehret, allowing him valuable seat time.

Ehret pitted after a dozen laps to hand over to Nielsen.

Since 2006, the Circuit de la Sarthé had undergone some noticeable improvements – resealing of Tetre Rouge and from Arnage to The Porsche Curves. The former resulted in a much better entry onto the Mulsanne Straight which in turn has the effect of a greater entry speed at the break point into the first chicane.

Somewhere in that area a LM GT1 Lamborghini Murcielago came to grief. With Nielsen on his out lap and generally minding his own business, heading at speed towards chicane two, the front right tyre exploded, sending the #93 Porsche into the tyre barriers. Nielsen limped the car home, minus the rear wing, headlights, front splitter and a badly smashed windscreen.

"There was just no warning at all. We had a look at the tyre and it was the sidewall so I think we can deduce that it was cut from some debris off the Lambo. Just one of those things. I was only doing 250kph so lucky it wasn't a high speed accident" said Lars with a wry smile on his face.
The car was quickly repaired – damage was mainly cosmetic – and Simonsen returned to the track until the rain started in ernest.

A little after 10pm the second sessions started and was used once again for the trio to get used to the falling light conditions and damp patchy track.

Simonsen was last into the car, as a dry line appeared, to turn in a 4.08 second lap putting the Autorlando Sport racer in 5th place.

With 15 cars entered in the GT2 class – the largest of the four categories – it was a suitable start to qualifying.

Rain is once again predicted for the final two sessions on Thurday night so it will now be a case of wait and see. A wet track is unlikely to see an improvment in times but then again this is Le Mans where the strangest things can and usually do happen.

One has to ask themselves this question: Since when has a weatherman been totally accurate?


AUTORLANDO SPORT TAKES ADVANTAGE OF WET QUALIFYING SESSION TO EMERGE AS FASTEST GT2 TEAM AT LE MANS


For once the weather department got it right – the second day of qualifying for the 2007 Le Mans 24 Hour was completely washed out, forcing the times gathered on Wednesday to determine the grid for Saturday's classic event.

The first of todays two hour sessions was delayed 30 minutes whilst oil was cleared off a part of the track from an earlier support category qualifying session.
Allan Simonsen was sent out first to explore the grip levels and returned after a single lap, just as the heavens opened up in a huge downpour.

It was a mad rush for teams to pit and get undercover – the open cockpit prototypes like the Audi R10 being most susceptable to the elements.

But Le Mans is a religious place indeed and when it rains the hordes of spectators don't run for cover. Last year over 340,000 spectators turned up to watch the battle and more are expected this year.
The rain eases and Simonsen is one of the first to return to the track for an exploratory lap once again.

"There is no real problem out there except for the Mulsanne, says Allan on return to his pit box."

"No problem with grip anywhere else but the standing water on Mulsanne is dangerous so we wait for a little to clear off."

And so it did and Allan returned to the track, circulating in the high 4 minute mark, ahead of the other GT2 cars.

Simonsen pitted and the mechanics made a few aero and suspension changes before sending Lars Erik out for a dozen laps, allowing him time to get comfortable for what may well become a wet race.


Nielsen waits whilst the wet setup is adjusted
Lars Erik made an interesting observation with the wet track.

"Everything is good up to 100kph and its fine over 200kph because the downforce is high so it keeps you glued to the road. The problem is getting from 100 to 200 and then back down again. That's the tricky bit!"

Pierre Ehret was in for the final qualifying stint and came back happy with the setup.

"Yes it was a bit slippery but we have great Pirelli tyres so that adds a lot of confidence. The Porsche factory engine is very progressive unit so getting the power down is fine even in slower corners. I am happy with the car now" Pierre remarked.

At the end of todays qualifying the team was the fastest GT2 car, but with Wednesday's time being quicker the #93 Autorlando Sport racer will start from 5th GT2 position. A complete grid will be available tomorrow.
| | |
| --- | --- |
| Le Mans was a fortified town centuries ago | The Cathedral in Le Mans |
Tomorrow, Friday, is a rest day for the drivers – but for the fans its a chance to get up close at the traditional Parade du Pilote through the narrows streets of old Le Mans.

Drivers assemble in the Place du Jacobins below the famous Cathedral (above) and are driven through the streets to the enjoyment of the adoring fans.

Saturday will see a warm-up session in the morning – 30 minutes thereafter the team will nominate the driver to start the race, at 3pm.

You can follow the teams progress, enjoy daily image galleries and have a bit of a laugh on the official Autorlando Sport Le Mans 24 Hour microsite.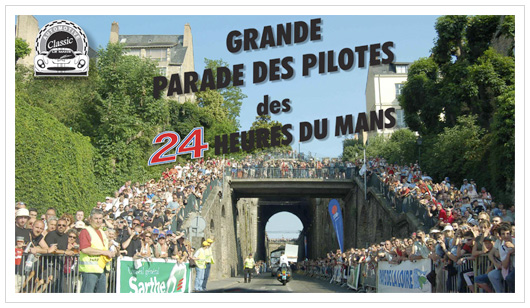 friday 15 june 2007

So you expected a story today?

It's our day off!

So take a look at fridays image gallery

AUTORLANDO SPORT SNATCHES 3RD PLACE AT LE MANS 24 HOUR
ON FIRST ATTEMPT ADMIST WILD WEATHER AND CARNAGE


Italian rookie Le Mans 24 Hour team Autorlando Sport has grabbed third place at the worlds most prestigious sportscar race last Sunday afternoon.

Competing for the first time at the French circuit, the trio of Lars Erik Nielsen, Pierre Ehret and Allan Simonsen brought home the battered and bruised Porsche 997 GT3 RSR and in the process wrote themselves into the history books.
From the moment qualifying commenced on Wednesday evening until the chequered flag dropped at 3pm Sunday, wild weather lashed competitors and fans alike. For many just finishing the Le Mans 24 Hour is an achievement but to grab a podium position in such arduous circumstances is a fairytale indeed.
There is so much to tell about what went on during the 24 hours and the lead up – it is a story and a saga – the best way to read all the fine details is by going to
dailysportscar.com
Whilst Nielsen and Ehret were seasoned Le Mans 24 Hour competitors, it was Simonsen who was the rookie. He would also be the strongest driver in the team, spending over 11 hours in the drivers seat.

The event was not without dramas for the team – with punctures, a faulty damper and an amazing escape at over 250kph on the famous Mulsanne Straight in torrential rain.

The event got underway at 3pm with Simonsen at the wheel, starting from 5th position in GT2. He moved carefully through the field of Ferraris and Porsche to lead the class by the end of the second hour by quite a distance.

On the grid and spirits were high

Nielsen would take over for the 3rd stint with Ehret following after that. And so the pattern would be repeated again and again with over 25 pit stops taking place!

The team would eventually finish 3rd in class and 21st outright, behind the Risi Ferrari 430GT. GT2 was won by the IMSA/Matmut Porsche 997 GT3 RSR of Pat Long, Richard Lietz and Raymod Narac.
| | |
| --- | --- |
| The race started wet, went dry and finished with several hours of torrential rain - tough stuff indeed | Lars Erik Nielsen chats with Porsche engineers before getting in for another double stint |
Lars-Eric Nielsen: "Two years in a row at Le Mans and we are on the podium. It's an amazing feeling. It was very tough out there with the changing weather conditions especially towards the end. Autorlando gave us all a great car and the Porsche engine was sweet. I am really grateful to Pirelli because they had really good rain tyres and Allan and Pierre did a very good job."

Pierre Ehret: "That was pretty close towards the end. When Allan got caught out on slicks in the downpour we were pretty lucky to get away with just losing a wing and the splitter. We had three laps on Adrian Newey in the AF Course Ferrari but he was circulating 25 seconds a lap slower than Allan so we just assessed what we need to change on the car, assembled the parts and then brought Allan in. The mechanics were super and I knew we'd be good for the finish then. All in all I'm rapt with the result and how everyone in the team worked well together."

Allan Simonsen: "I feel like I need to sleep for a week and probably will but this is just fantastic to come here as a rookie and snatch the podium. The car was good but that weather was really bad. There was so much standing water on the Mulsanne Straight it was just impossible to control the car sometimes. I think I used up my get-out-of-jail-free card today at the first chicane. It's great we had a mega team all pulling together to get the result. I couldn't be happier and can't wait to come back again next year."
Simonsen (4th) chases the leading IMSA Porsche,
the Scuderia Ecosse Ferrari 430 and Flying Lizard 997

GT2 Sandwich - David Brabham's Aston Martin
DBR-9 ahead as they head to Tertre Rouge
Congulatations must go to every person in the Autorlando Sport Team for it was not an individual that made the result come true but a complete team effort. From race engineers to mechanics, the chefs to physio support, the race stategists, timing team and even the media guy (hey that's me!) - it was a complete and total effort.

Special thanks must also go to Porsche for their wonderful support and providing a race day engine that not only was the strongest out there but had excellent fuel mileage. To Pirelli - many thanks for the brilliant rubber provided and for all our commercial partners who provided the vital backing.

We look forward to moving up the podium in 2008!

enjoy images from the 2007 Le Mans 24 Hours (most recent are first)
(Track action images by Bob Chapman. Lifestyle and scene by HOTLAP)
It's a long long long race not just for the drivers but for everyone. Mechanics are always on standby. Engineers are monitoring the race and recalculating strategy. Tyre experts monitor weather. Physio experts are on standby not only form the pilots but anyone in the squad. Food is being prepared (yes, more ham!) and the media team is constantly looking for that new picture or story (hey that's me!)

These images tell the story of the night...



It's late but it's early - It's Sunday.

Things appear to be going well - no major issues and its a classic Porsche vs Ferrari battle once again.

Lars Erik is in the car chasing ex-F1 driver Mika Sala in the Risi 430GT.

A pit stop wakes the team up and a visit to the pit wall nerve centre is important - it can be lonely out there but there is little time to feel sleepy.


Into the evening and the #93 Autorlando Sport Porsche 997 GT3 RSR of Simonsen, Nielsen and Ehret is leading the GT2 class after starting 5th.

The weather was mad - so was the driver - Simonsen - who doesn't like the rain but is an amazing driver in such conditions.

Lars Erik then went for a splash with Lucky Pierre after that. Meanwhile the team settled into their evening pattern of silly behaviour as you can see in this evening gallery

Saturday is race day but not until 3pm. But that's a bit odd because last year it was 5pm and for 73 years prior 4pm. So why the change?

Well last year it was the World Cup Football that dictated the timing to TV networks. This year it's the French elections! Is nothing sacred?

In this gallery you'll explore the lead up to the great race, some grid action and behind the scenes.

Oh, did we mention there might even be some more ham to eat?

The picture you are looking at is the boss - Orlando - so I thought it was a good idea to make him the 'face' of this gallery or he'll force me to eat more and more ham.

Actually I like ham, especially the great ham we've been having all week...




It's Monday and as tradition dictates, teams must appear in a specified order for technical inspection or scruitineering.

Every possible facet of the race car is checked to ensure it complies with the stringent rules as set down by the Le Mans 24 Hour governing body - The ACO (Automobile Club L'Oest).

Held at the picturesque Place du Jacobins in the centre of the historic town of Le Mans, its a great place for fans to meet their heros and enjoy the team photos that take place.
Name: Lars Erik Nielsen
Born: 1951 in Copenhagen, Denmark
Lives: Verbaek, Denmark
Best School Subject: Breaks and Lunch - same as Simonsen!
TV Show: 24 Hours
First Drove: My parents crazy
Favorite Actress: Julia Roberts
Best Race Contested: Le Mans 24 Hour - 2006
Favorite Race Track: Dubai
Favorite Corner: Porsche Curves @ Le Mans
Most Respected Sportsperson: Tom Kristensen
Favorite Website: dailysportscar.com
Worst Habit: Messy!
If you could invite four people to dinner, dead or alive who would you choose? My Family
What would you do after dinner: Have another glass of red

Name: Pierre Ehret
Born: Somewhere German, but never mention the war
Lives: in luxury
Best School Subject: Money laundering
TV Show: Hogan's Hero's
First Drove: a lawnmower
Favorite Actress: Ange Jolie
Best Race Contested: Le Mans 24 Hour
Favorite Race Track: Spa, Belgium
Favorite Corner: Eau Rouge
Most Respected Sportsperson: That Lars guy
Favorite Website: This one of course!
Worst Habit: I'm habitual
If you could invite four people to dinner, dead or alive who would you choose? Larry the Lamb, John Belushi, Elle McPherson, Waldo the Clown
What would you do after dinner: Throw them out. Keep Elle.

Name: Allan Simonsen
Born: 1978 in Odense, Denmark
Lives: Qantas First Class @ 33,000 feet and Melbourne, Australia
Best School Subject: Breaks and Lunch
TV Show: Prison Break
First Drove: When I was old enough
Favorite Actress: Ange Jolie
Best Race Contested: FIA European GT3 @ Silverstone
Favorite Race Track: Mt Panorama, Bathurst
Favorite Corner: Turn 8 @ Istanbul Park, Turkey
Most Respected Sportsperson: David Beckham
Favorite Website: hotmail.com
Worst Habit: Messy!
If you could invite four people to dinner, dead or alive who would you choose? Kate Price, Ange Jolie, Cam Diaz, Jen Hawkins
What would you do after dinner: Isn't this a G-rated website?